Industrial Info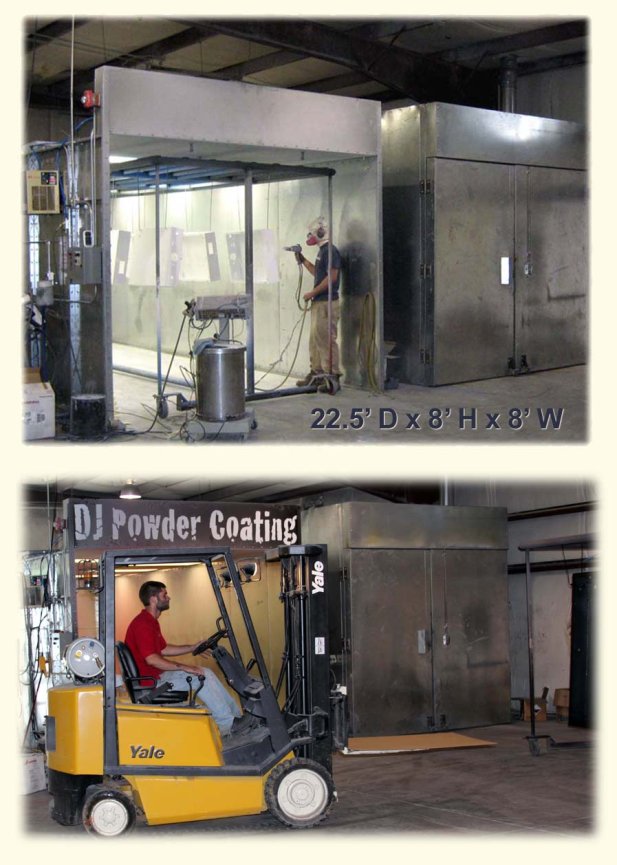 DJ Powder Coating takes no short cuts-
not in preparation, cleaning,
and not in cure times.
DJ Powder Coating is Located Only Minutes From
Major Transportation Routes: Central Eastern US and Central NC
10 Years of Experience Servicing Numerous Industries
Highest Quality, Large Oven, Quick Turnarounds
"We have been using DJ Powder Coating since early spring and are more than pleased with Denny and his team. The quality is exceptional. The pricing and turn around times are reasonable. The care he takes from receipt of our product to packaging for return to us is exactly what we were looking for. Our company builds high end industrial equipment and Denny's excellent workmanship adds value to our products. If you are looking for quality, attention to detail and great service, look no further!" Julie Hurston, Director of Operations, Spartan Manufacturing Corporation, D.B.A. Pressure Power Systems
"DJ Powder Coating completely blew me away with their service. Thank you all for doing such a great job for me. Your attention to detail, professionalism and customer service has been the best that I have experienced. I will definitely refer people to DJ Powder Coating!" Paul A.
"I'm going to be thankful for DJ Powder Coating tomorrow!" (Thanksgiving) Dan E.
DJPC Proudly Offers:
Burn Off: Heats parts to help remove old finishes.

Media blasting: (Sandblasting) DJPC uses Aluminum Oxide in our Blast Room. Blasting is used on products that have a surface that would hinder adhesion of powder such as old finishes, oxides, rust or manufacturing products that remain on the metal. Aluminum oxide is a more expensive media but it's worth will be seen in the longevity of our products.
Pre-Treatment: Cleaning is achieved with a spray wand system and steam cleaner; using an alkaline cleaner for degreasing and a phosphate coating to help with the adhesion of the powder to the surface. Used on ferrous & nonferrous metals.
Silicone Plugs & Masking: We custom design our own masking and plugs when needed to insure optimal finish.
Powder Curing: DJPC uses hi-tech oven thermal equipment to assure proper cure times which eliminates over or under curing which leads to finish field failures.
Batch Powder Coating Processing: Batch powder coating systems offer a number of strategic advantages, including the opportunity to run a variety of part sizes, the ability to achieve a fast setup for color changes, the ability to respond quickly to customer needs, and the capacity to handle large or heavy parts. Batch systems allow for the flexibility of a manual coating operation and extra attention to detail. Our walk-in systems can handle complex- shaped parts, very long parts, parts requiring low or high quantities, and very large or small parts.
DJ Powder Coating Equipment:
Blast Room

Pretreatment Center

Hot High Pressure Washer & Steam Cleaner, Propane Fired

Hanging Racks

Reliant Spraying booth- 22.5' long X 8' high X 8' wide and 14' Long X 8' High X 8' Wide

Gema & Parker lonics powder coating guns

Thermal Oven Profiling System

Reliant Batch Ovens - 22.5' long X 8' high X 8' wide and 14' Long X 8' High X 8' Wide

Vinyl Cutter for custom masking

Fork Lift
View Our Work: Commercial Gallery

If some of the parts don't meet your expectations:

Please inspect your parts upon receipt. If you should discover something wrong with your part(s), notify us immediately. The bottom line is if the error rests on our shoulders we will gladly recoat the parts and do whatever we can to address the problem to satisfy your needs. DJ Powder Coating reserves the right to validate all claims, but we will not charge you to correct our own mistakes.

DJ Powder Coating Serves:

The entire United States- as well as locally to:

You are our top priority and we want to make you happy with our service.

You will be impressed at how easy it is to work with us.


Industrial Gallery