Consumer Info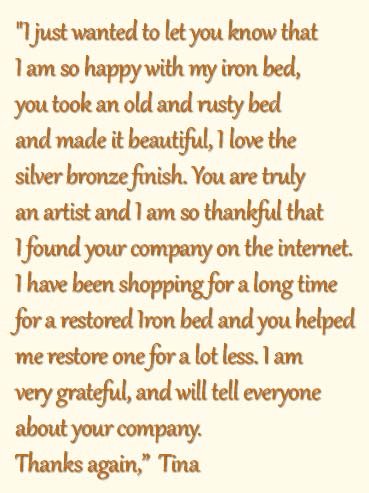 You are our top priority and
we want to make you happy with our service.
You will be impressed at how
easy it is to work with us.
10 Years of Experience Servicing Numerous Industries
Quick Turnarounds, Low Cost, and High Quality
Important Information:
Powder coating is a cheaper and smarter alternative than spray painting. It not only lasts for years, but also does not chip or fade, is more UV resistant, and is environmentally safe. It also guards against rusting and erosion.

Powder Coating is extremely durable, but is not scratch proof

Bondo tends to "out gas" which creates little bubbles. JB Weld High Temp is a better choice, if you must use a filler.

Tubes or pipes that have end caps and do not have a weep hole have a high risk of vapors escaping during the curing process that will damage the power finish in an oven. Without a weep hole for the gases to escape, DJ Powder Coating is not responsible for the damage an oven may produce.

Parts that are not welded solid allow moisture to build up in places that the powder coat cannot penetrate. This may cause rust after installation.

Weldments and frames that have overlapping metals trap moisture and will rust if the overlapping metals are not seal welded.

Due to oil or grease from hidden areas such as pocketed recesses or (tapped) holes some metal parts may experience an out-gassing and/or bubbling in the finished powder coat. DJ Powder Coating will take every precaution possible to avoid out-gassing; however, we can't be held responsible for bubbling caused by porous castings.
Many everyday objects can be powder coated; here are a few:
| | | | |
| --- | --- | --- | --- |
| Automotive Frames, Wheels & Parts | Patio furniture | Bicycle frames | Metal cabinets |
| Motorcycle Frames, Wheels & Parts | Antique Beds | Bumpers | Basketball hoops |
| Vending/ice-making machines | Garden tools | Trailers | Toolbox |
| Off Road Vehicle Frames, Wheels & Parts | Wheelbarrows | Gates | Computer cabinets |
| Metal kitchen tables/chairs | Playground equipment | Art pieces | Fans, desk accessories |
| Guard rails | Wheelchairs | Bar-B-Q Grills | Exercise equipment |
| Highway signs | Computer cabinets | Art Pieces | Metal fencing |
| Gas/electric furnace cabinets | Metal toys and wagons | Mailboxes | Hospital beds |
| Aluminum doors/windows | Bathroom fixtures | Bunk beds | Luggage racks |
"Just wanted to give a big shout out for the work that DJ's powder coating has done. After going through 3 diff. places that did my wheels and I got refunded, i finally landed at DJ's and man let me tell you, this will be my only stop for my powdering needs from now on. What no one else could tackle cleanly, Denny made look like the factory did it, nice job Denny and also, all of your super nice staff up there!" K. K.


Chassis Gallery

Automotive Gallery

Wheel Gallery

Furniture Gallery

Motorcycle / ATV Gallery

Miscellaneous Gallery